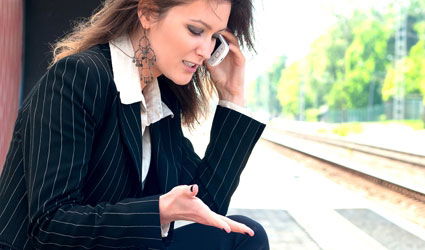 WHEN was the last time you looked somebody in the eyes? If today's modern technology has anything to do with it, it's probably been a while.
At the train station recently a gang of us sat waiting for our carriage to arrive. For 20 minutes there was complete "human" silence in the station (the station's TV was blaring of course!) as each and every passenger gave themselves a sore neck endlessly glaring down at their smartphone.
Have you also noticed how any spontaneous doubt within a conversation is immediately shut down with the words "let's Google it and see"? While, even little children no longer seem to be interested in toys, but rather their parent's mobile phones.
Technology is a good thing; but like everything else in the world it's best enjoyed in moderation. The amount of money spent these days on gadgets is incredible and a lot of the time the gadgets we flock to buy are completely unnecessary. Honestly oftentimes if we had even just half a brain we could do the same thing without the technology's help.
For example, Microsoft has launched a "smart bra" to try and stop women eating too much. That's right – rather than just making a stern conscientious effort to go on a diet and stick to it, apparently nowadays it is necessary to splash out on high-tech bras to achieve a slimmer figure. The new fancy bra is embedded with physiological sensors that monitor a woman's heart activity to measure stress levels and combat emotional eating. The sensors can send an alert to the wearer's smartphone, which then flashes a warning to help the wearer step away from the fridge and make better diet decisions.
It does seem a little far-fetched that in order to resist the cookie jar a woman needs to be equipped with a high-tech bra that can talk to the smartphone in her pocket. It seems like a lot to invest in – surely plain-and-simple will power can achieve the same results without fleecing your saving account!