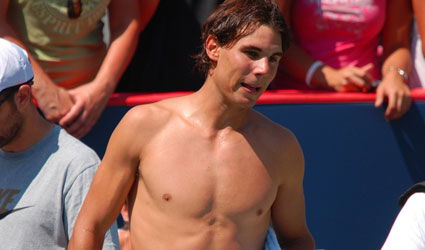 After four fairly easy games Nadal had his first serious test in the Australian Open quarterfinals in Melbourne Park against Grigor Dimitrov.
In his fourteenth Grand Slam the Spaniard lost the first set managing three points, which would have been almost impossible for anyone else, but in the end he managed to dominate the talented Bulgarian player.
The confrontation lasted three hours and 37 minutes and resulted in a win by 6-3, 7-6(3), 7-6(7), and 6-2.
With his left hand in a bandage for a wound caused by the constant chaffing of his racket handle, Nadal suffered in dominating the 22-year-old Bulgarian who was a novice to the grand slam.
"I was very lucky in the tie-break" commented Nadal "and I suffered a lot". The Mallorcan player explained that his main problem with the bandaging was that his serve was not so strong and sometimesthe racket flew out of his hand.
The 2009 champion is now waiting to see who he will face after the game between Swiss Roger Federer and British Andy Murray.