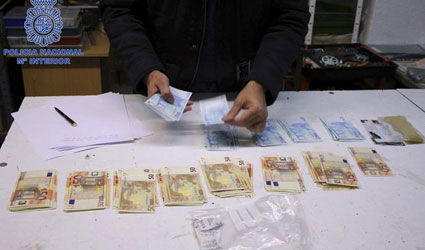 Police detain the biggest euro forger in Spain
National police, working with Europol, have arrested a 60-year-old man who is considered to be the main forger of 50 euro bills in Spain.
The operation has dismantled a laboratory that produced more than 2,500 euros per day. They have also brought down the biggest web of forgery and distribution in Spain and one of the most important in Europe.
A police spokesman said that the forgeries were considered to be among the 10 best in quality in all of Europe.
The operations centre, which started out in Mijas, was in a chalet on the outskirts of Toledo and was where the man, a self taught expert in graphic art, worked with a purpose built oven for drying the notes.
As well as 50 euro notes he was also a master of the 100 dollar bill and could forge a variety of identity documents from several European countries.
The man was arrested along with his wife who is of Colombian extraction.