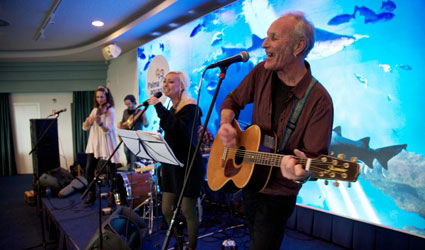 More than 250 people gathered at the Palma aquarium last Sunday to attend an Association Ondine awareness event. The event, which was generously sponsored by Absolute Boat Care, aimed to give an update on the work of the Association and also ask for help and support for new projects.
Association Ondine was formed in 2012 and is led by local dive teacher and businessman, Brad Robertson. Brad gave a presentation about the work of the organisation and was ably supported by Glynis German who simultaneously translated into Spanish.
Marine biologist Biel Morey gave a report about the ongoing Sting Ray project which has been in progress since 2013. The project records the numbers of rays living in the bay of Palma as a way to measure the health of the Mediterranean waters.
Whilst the grown-ups were attending the information session their children were given a fun guided tour of the aquarium and then returned to their parents where they then enjoyed a performance by the band Hayley Bob and the Blue Valentines.
Brad finished the event by telling the group that Ondine is actively looking for all sorts of help: financial and physical and that there were many ways in which local businesses, schools and individuals can get involved. In particular they are launching a brand newOndinemarine smartphone app to monitor sitings of fish and debris at sea which they hope everyone in Majorca will download and use once it is ready. Brad was able to announce that Master Yachts have confirmed their sponsorship of the marine debris section of the app which is now in development. There are also developments to the Sting Ray project and there will be a beach clean up drive amongst many other ideas. To find out more visit: asociacionondine.org