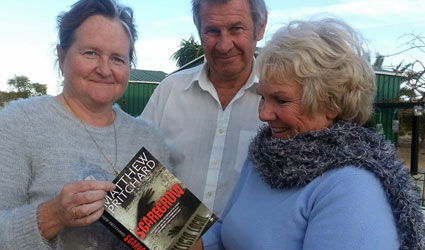 CRIME author Matthew Pritchard has donated all profits from sales of 90 copies of his debut novel, Scarecrow to a legal fund fighting home demolition orders.
The AUANs 'ECHR Fund' is in support of a British couple who are fighting a legal battle to save their villa from being demolished as a result of a planning dispute between their town council and the regional government of Andalucía.
Terry and Christine Haycock have submitted an appeal to the European Court of Human Rights in Strasburg with the backing of the 'ECHR Fund' which is supported through public fundraising and donations from homeowners groups, AUAN, SOHA and AUN.
The opening of Scarecrow, 'a well-paced whodunnit debut set against a vividly drawn Andalucian backdrop' (the Guardian) was, according to its author, indirectly inspired by the demolition of the house of Len and Helen Prior in Vera in 2008 and its author, Matthew Pritchard, dedicates the novel in part to them.
Reviews of the book have been very positive. According to the Guardian 'Pritchard paces the narrative nicely, and convivial tapas bars, mass unemployment, corrupt bureaucrats, forgotten migrants and petty thugs form an entertaining, vivid backdrop to the lurid crimes and determined clue-gathering'.
'We are hugely grateful to Matthew and his publisher, Salt Publishing, for their generosity' said AUANs President, Maura Hillen. "We can now add a further €309.57  to the fund and the feedback from readers has been very positive. Matthew Pritchard is an author to watch out for."