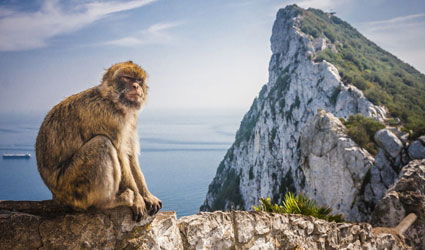 First baby: LEXIE LIZIANNE HIDER was the first baby to be born in Gibraltar in 2014, 24 minutes after midnight on January 1.
Trade up: LOCAL retailers said that trade for the month of December was busier than normal despite a drop in shoppers coming from Spain.
Intent to supply: A LOCAL man, 33, was sentenced to two years in prison, after he admitted intending to supply 23.45 grammes of cocaine.
Defending Gib: A FORMER Commanding Officer of the Royal Navy's Gibraltar Squadron, Tom Knott, 30, has been awarded an MBE in the Queen's New Year's Honours List for defending Gibraltar's territorial waters.
Burglar confesses: A MAN, 41, appeared before the Supreme Court and admitted stealing €600 in cash and £40,000 worth of jewellery in a domestic burglary at Centre Plaza.
Witnesses sought: THE Royal Gibraltar Police appealed for witnesses after a motorcycle rider was injured in a hit and run on January 4 at approximately 5,10am at Line Wall Road by Capurro's Garage.
Tobacco smugglers: HM CUSTOMS OFFICERS ensured two tobacco smugglers got away empty handed after they were spotted carrying black holdalls, each containing 55 cartons of cigarettes, which they abandoned during a chase.
Demolition plans: THE Gibraltar government plans to spend £350,000 demolishing the refuse incinerator at Europa Advance Road, leaving reinforced concrete sub-structures and foundations in place.
Fire damage: THE Royal Gibraltar Police are investigating a fire which broke out at a garage in Montagu Gardens and caused extensive damage to the contents of the garage, including a car.
Controlled drug: A LOCAL man, 36, was arrested by Customs officers at the land frontier as he entered from Spain and was found to be carrying 28 grammes of amphetamine, a controlled drug.
No culling: JOHN CORTES, the Minister for the Environment, insisted that the Gibraltar Government will not resort to large-scale culling to tackle the presence of Barbary Macaques in urban areas.
Officer cleared: A ROYAL GIBRALTAR POLICE officer accused of raping two female colleagues was acquitted of all charges in the Supreme Court.
Sick notes: GIBRALTAR HEALTH AUTHORITY has urged people to avoid using the emergency doctor or A&E for extensions to sick notes and go to the Primary Care Centre administrator if they cannot get an appointment.
Short visit: THE Royal Navy Type 23 frigate HMS Somerset left the Rock, following a brief visit, to start a six month operational deployment East of Suez.
Mother's appeal: A WOMAN whose son died in a bike accident in October 2013 has called on the Government to install fixed speed cameras and implement a penalty points system for driving offences in Gibraltar.
Cigarettes seized: A 20-YEAR OLD Spaniard was challenged by Customs officers in the vicinity of Western Beach and arrested after being found in possession of 9,800 cigarettes.
Little response: THE Gibraltar Government has received just one response to its consultation on proposed legislation for civil partnerships. The next stage is for the Bill for the Civil Partnership Act to be debated and voted on in Parliament.
Morocco link: GIBRALTAR is to have a direct air link with Morocco from next April, when travel company Your flight will launch flights from the Rock to Marrakech.