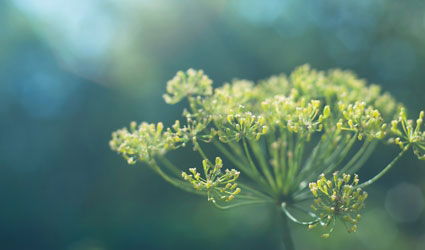 Basil – An easy to grow annual which can be planted at any time of the year. It requires a lot of sun, some good quality soil and can be placed almost anywhere in the garden or even on a windowsill. It will grow back the leaves you pluck making it almost eternal.
Chives – An annual plant that can be sown at any time of the year. Chives require a lot of sunlight and moist soil conditions; it is an ideal plant for pots. It will benefit from being frequently snipped back to avoid yellowing.
Coriander – Sometimes called Chinese parsley, this is a two for one plant: the seeds are known as coriander and the leaves as cilantro. It grows well in pots and is perfect for winter as it tends to wilt in the sunlight. As you harvest the leaves it is best to let a few of the stems go to seed so that it can regrow.
Dill –A versatile herb that should be planted in winter with full sun and well drained soil. Because of its height it is better in the ground. It should be harvested in the spring with some leafy parts left to go to seed for the next year.
Oregano – A hardy perennial that is easy to grow in the ground or in pots. Plant it at any time of the year: partial shade in summer and full sun in winter. Harvesting should be done when the leaves are plump and the plant is 4 – 5 inches high. Cutting stems all the way back will encourage a fuller plant.