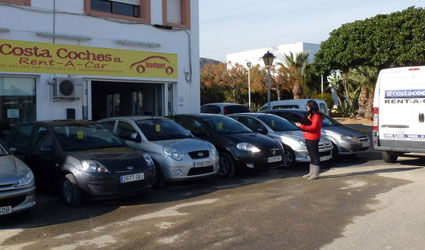 COSTA COCHES VERA S.L has been in operation since 2006/2007, supplying budget rental cars from Almeria airport and their Mojacar depot.
For 2014 there are a number of important changes brought about by the market forces and customer comments.
Over 30 new cars have been purchased and are currently being prepared for use in the New Year.
We now have a depot 2km from Almeria airport which is where we are storing and maintaining our cars. This is at theSciencePark service station on the A7-E15 motorway at junction 460. In the future your hire car will be returned there and we will take you on by shuttle to the airport (5 min). When collecting your hire car you are met at the airport and our shuttle will take you to the service station. By using this system we are able to keep a much closer quality control over our cars, as it is our own staff who are delivering and preparing the cars, plus the added bonus of having the latest car cleaning machines, full cafeteria facilities and competitive fuel prices at the pumps.
We are operating a FAIR FUEL POLICY. When you collect your car it will be full of fuel and you will have been charged for this when your booking was made. Whatever car you choose, when it comes to paying, the capacity of the tank will be quoted in liters (this can be easily checked on the internet!) times the prevailing pump price.
           i.e. Kia Picanto-fuel capacity 35 litres x  €1.401 per litre = €49.
           All our vehicles fuel prices will be given in advance, therefore, no sudden           
           surprises, and you return the car back to us empty.
To find us is really easy. Turn off the motorway at exit 460 straight into the service station and we are alongside the cash office with reserved parking spaces and a sign above the cars.
All our airport staff will be wearing our new uniform of yellow polo shirts with Costacoches budget car logo and black trousers.
All these changes should ensure your airport car hire experience is as pleasant as it can be.
Contact details 950 459 208/950 069 272 Email: costacoches@hotmail.com Web: www.costacochesrentacar.biz