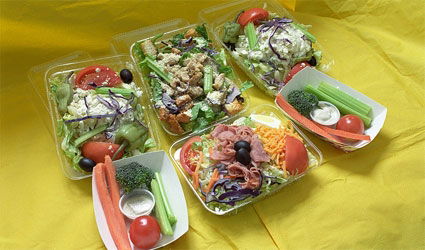 Use olive oil as your principal additional oil. It is rich in vitamin E, beta-carotene and monounsaturated acids that have cardio protective properties.
Eat plant foods in abundance: fruits, vegetables, legumes, mushrooms and nuts. They are the main source of vitamins, minerals and fibre in our diets and give us at the same time, a lot of water. They can also prevent cardiovascular diseases and some types of cancer.
Bread and food from cereals (pasta and rice) should be part of the daily diet. They are essential for its carbohydrate composition and provide the energy for our daily activities.
The less processed, fresh and seasonal foods are the most appropriate. This allows us to consume them at their best moment, both in terms of nutrient intakes and for their aroma and taste.
Consume daily milk products, mainly cheese and yogurt. They are a good source of calcium, high quality protein, vitamin B2, retinol and vitamin D.
Red meat should be consumed in moderation and better as part of stews and other recipes. Processed meats only in small amounts as an ingredient in sandwiches.
Eat lots of fish, but eggs in moderation. Oily fish consumption is recommended at least once or twice a week because its fat has properties against cardiovascular diseases. Eggs contain high quality protein, fats and many vitamins and minerals, it is recommended to have three or four eggs a weeks as a substitute to meat.
Fresh fruit should be the usual dessert. Sweets and pastries should be eaten occasionally.
Water is the quintessential drink in the Mediterranean. Wine must be taken in moderation and with meals.
Physical activity every day, because it is as important as eating properly to maintain health.