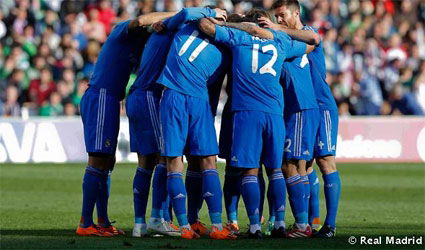 Betis 0 – Real Madrid 5
Goals from Morata, Di María, Benzema, Bale and Cristiano annihilated a Betis that perhaps did not deserve so much punishment.
After only 11 minutes of play a fully recovered Cristiano Ronaldo scored the first goal going through the Betis goalkeeper Andersen who had no chance of blocking the shot. Welshman Bale scored the second goal after 27 minutes with Benzema scoring the third at minute 46
After Di Maria's goal at minute 77 Betis tried valiantly to make a comeback but they just weren't up to the job.
At 17:37 Caro and Morata went onto the field and within only 8 minutes of being on the pitch Morata scored the fifth and final goal of the match.
Real Madrid are now only one point behind joint league leaders Barcelona and Atletico Madrid.