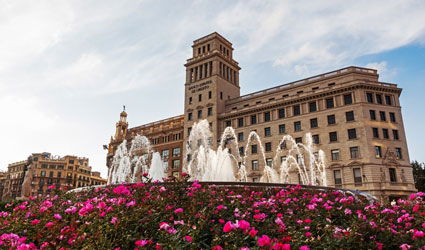 SPAIN's richest person, Amancio Ortega, has expanded his property portfolio by buying two emblematic buildings in Barcelona and Valencia.
The co-founder of clothing giant Inditex has bought the former headquarters of Banesto bank on Barcelona's Plaza de Cataluña, and a building in Calle Colon in Valencia.
Both buildings serve as premises for two stores selling devices from computer giant Apple Inc, otherwise known as Apple Store.
Coincidentally, or maybe not, Amancio Ortega also bought a building hosting an Apple Store in Paris' Carrousel du Louvre.
Ortega bought his Barcelona building to Sareb, a company responsible for managing assets transferred by the four nationalized Spanish financial institutions, for €44 million.
A bargain if taking into account that Madrid-based real estate Monteverde bought it for €110 million in 2006.
For his Valencia building, located opposite a El Corte Ingles department store and next to several of his own clothes shops downtown Valencia, Ortega paid a reported €23.5 million.
The third richest man in the world with an estimated fortune of €47.7 billion, Amancio Ortega is said to have been interested in expanding his property assets in Valencia for months.
In recent months, he bought a 5,200 m2 commercial and office building in New York for €70 million, as well as the Devonshire House building in London's West End for £400 million (€480 million).