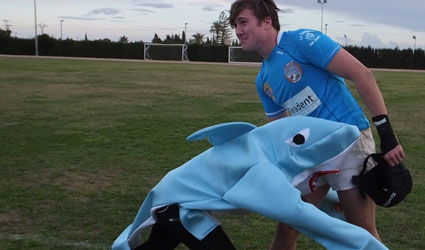 Los Squalos-60 UCAM (Murcia)-5
Saturday January 18
Even before the kick off, the game was conceded by the visitors who only had 13 players.  This gave Los Squalos a 40 point to nil accepted and recorded scoreline, which included a bonus point, to keep them at the top of the league.  However, in true Corinthian spirit, UCAM were loaned two players to make up their numbers.  Not surprisingly, it was a day for the strong props.  Tight Head, OSO, scored two tries and lose head, JUANDI, scored one in the second half. Wargener, Borja and Morfo crossed the line with Jorge converting two of their tries. Alex (Bracitos) touched down and converted his own try just before the interval to give Los Squalos a lead of 31 points.
Second half tries were added by Christian, Borja, his second, and Mick Moran, who had left the field with an injured shoulder but returned to score.  As mentioned OSO who had started the scoring ended with his second try.  Overall the young players of UCAM kept trying to play against the odds in traditional rugby spirit and were rewarded for their efforts with a late try by Fran.
Once again, the success and publicity brought more new recruits to the squad and the ladies section has exploded to forty as they enjoy continuing success on the field.
Anyone interested in more information, please come along to training on a Tuesday and Thrursday evening at 8.30pm at the Polideportivo in San Javier and speak to coaches Ian or John.
Tel: Ian 634367295 or John 608825869.