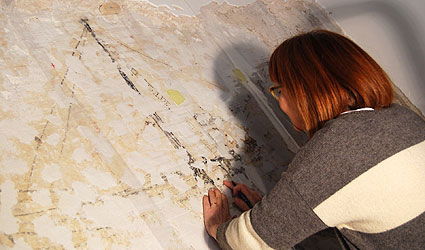 SIX centuries ago, someone drew pictures on an interior wall in Javea's Casa Candelaria. They outlined boats, two dancing figures and a man carrying a round shield and a sword and were discovered during restoration of the municipally-owned house last year.
The drawings have been traced and the originals covered while restoration of the property continues.  Once this is finished, they will be suitably protected and left on public display.
Tests carried out indicate that the sketches were made during the 15th century, confirmed Javea's municipal archaeologist Joaquim Bolufer.  As well as providing graphic information, they give a spontaneous vision of popular life that is seldom present in written sources, he said.  
Restoration has been carried out by the local town hall alone, although the regional government's Conservation and Restoration body, IVC+R has been informed.
An expert in mediaeval vessels has already shown interest in examining clues that the drawings reveal about local boats at that time.
The Casa Candelaria doodles are particularly interesting as they reveal aspects of Javea's past as an anchorage during the mediaeval era, he said.