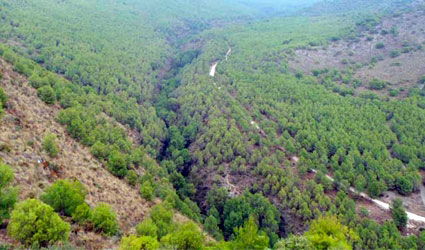 ENVIRONMENTAL groups are seeking the help of the regional government to prevent an "environmental disaster" in Nerja.
Ecologistas en Accion and Primavera Andaluza Nerja have asked the Junta de Andalucia to apply the current legislation to stop the possible building of a multi-million euro golf resort in La Coladilla gully of Nerja.
The project, consisting on a €165-million golf course and 1,000 luxury homes, was recently given the green light by the Spanish Supreme Court after the Junta halted it in 2006.
In a letter sent to the Junta, the Nerja branch of Ecologistas en Accion gives a series of reasons why the project should be stopped.
They claim a great part of the southern area of La Coladilla is part of the Nerja Cave's territory.
This would give the land a cultural heritage status, preventing any construction from taking place and reducing the project to half its proposed size.
The environmental group also claims the resort takes up part of the Tejeda and Almijara natural park, which it borders and is home to protected plant species.
Finally, they point out the forest in the area protects the district of Maro from torrential floods due to its density.
Meanwhile, socio-political group Primavera Andaluza considers the Mayor, Jose Alberto Armijo "doesn't protect the general interest of Nerja when he wants to destroy a place of great importance to favour a private company."
The group has asked Armijo to reconsider the project and demanded La Coladilla gully for the people of Nerja.