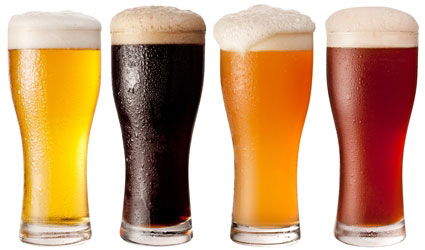 THE British beer market  has found itself to be in a state of flux.
Although the amount of people drinking beer has remained broadly the same in 2013 compared to the previous year, the actual amount being consumed has decreased.
According to a survey carried out by market researcher Mintel, some 31 per cent of beer drinkers in the UK claim to be drinking less beer than they were a year ago.
This downturn is also reflected in volume sales, with a year on year decrease of 3.4 per cent in 2013.
This means beer went from 4.24 billion litres sold in 2012 to 4.09 billion in 2013.
Lager is the most popular type of beer, with 58 per cent of adults drinking it in the last six months of 2013.
It is also the only type of beer to be drunk more at home than outside, with 47 per cent of people enjoying the drink at home.
Thirty one per cent of drinkers preferlater ale, whereas 'spirit beers' are drunk by 18 per cent. These are flavour-infused beers that appeal to 26 per cent of adults.
But 49 per cent of beer lovers say beer should be left unflavoured.
Finally, craft beer is experiencing a boom in the British market. A quarter of adults, equating to some 13 million