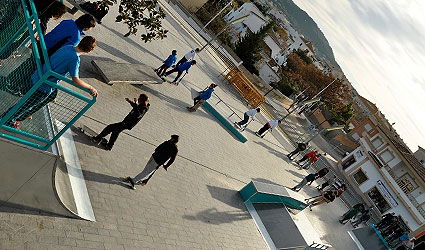 YOUNGSTERS like skateboarding and some locations are too tempting to ignore, whatever the prohibitions. 
Two Denia squares – Plaza de la Constitucion and Plaza de Consell – are perfect for the pastime but off-limits for skates, skateboards and scooters.  Ignoring the ban could now mean a €200 fine.
Not only do the public complain about having to dodge skaters but there is another problem.  Wheels are damaging the surface of the remodelled Plaza del Consell, Denia town hall explained.  
Local Police have already fined several skaters, including one youngster last month, but Mayor's Office councillor Javier Ygarza defended the ban.
Skating and playing ball in public places interfere with passersby and damage property, he said. Javea, meanwhile, has taken a different approach by setting aside the Portal del Clot square for skaters and BMX bikes.
The €14,000 cost of installing ramps was shared between the town's Civic Participation and Youth departments.
The decision to allow skates and bikes was the result of a proposal from the  Children's Council, composed of local schoolchildren, and attached to Civic Participation.