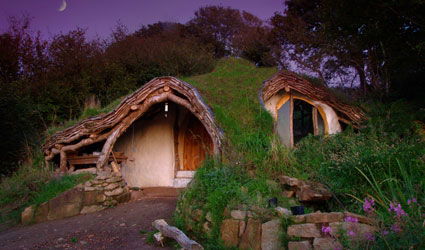 LOW-COST and low-impact can be highly gorgeous! Bilbo Baggins' cosy hobbit hole Bag End has met its match for coolness and quaintness. This fabulously original woodland home was developed by Simon Dale, the architect behind not only the concept but also its implementation. The home is featured on the "Why Don't You Try This" website www.whydontyoutrythis.com which claims that Dale was able to complete the construction at a cost of only £3,000 (€3,600). He acquired the land in exchange for its upkeep, and Dale was able to build his family's eco-friendly residence in just four months.
Next time you think about property and what materials are actually needed in order to live somewhere comfortable, think about the fact that this charming home required just a chainsaw to cut down about 30 small trees, plus other common tools like shovel, chisel and hammer. As far as materials, the earth itself provides the roof and a good portion of the walls, providing built-in natural insulation that keeps it warm in winter and cool in summer. And no one would ever know that the materials and appliances inside were refurbished or purchased second-hand. Far from giving a 'get-by-with-whatever' vibe, the effect is fundamentally one of creativity, cosiness and ultimate artistry. The simplicity of how the house was constructed and put together is refreshing. But perhaps the best part is Dale's 'let's do this' attitude toward a project for which he himself says he is not particularly equipped: "Being your own have-a-go architect is a lot of fun and allows you to create and enjoy something which is part of yourself and the land." This goes along with his philosophy behind why he did it this way, which according to his website is because "it's fun. Living your own life, in your own way is rewarding. Following our dreams keeps our souls alive."
Here's hoping that he keeps following his dreams, because they sure produce beautiful results for the rest of us to be in wonder over.