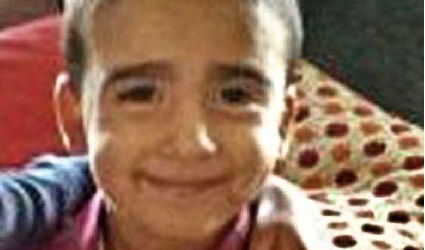 A body has been found in Kirkcaldy, Fife, Scotland is thought to be that of missing three year old Mikaeel Kular.
A person has been detained by police for questioning; unconfirmed reports suggest it is his mother. The police have cordoned off an area surrounding a bungalow in Dunvegan Avenue in Kirkcaldy, which is believed to belong to her sister. They are also searching woodland alongside the house.
Assistant Chief Constable Malcolm Graham of the Scottish police force announced at a press conference that the hunt for Mikaeel would be called off. He said "As a result of inquiries the body of a young child was recovered in Fife just before midnight. We strongly believe this to be the body of Mikaeel.
"A person has been detained in connection with the recovery of the body and members of Mikaeel's family have been informed of the recovery. Our thoughts and sympathies are with them at this time. I would like to thank everyone who has responded to these highly unusual events by assisting with searches and other activities in support of this investigation.
"As a result of this development, clearly there will now be no requirement for any further help in relation to searches in the Drylaw area. I would also like to acknowledge the overwhelming public response to requests for information, assistance and sightings. As ever, the police rely on the vital support of those who live and work within our communities.
"I am sure you will understand that I am unable to answer any further questions as the investigation continues."
Police and rescue teams have been searching for the boy since news of his disappearance on Thursday morning. His mother reported that she had put him to bed on Wednesday evening and that he was not there when she went to wake him the following morning.
Police investigated the theory that Mikaeel had dressed and left the building alone; however it seemed unlikely that a three year old could not only get himself dressed, but also get outside through heavy exit doors at the main exit of the building.
On Friday it was reported that Mikaeel had not been seen at his nursery since Christmas; his mother had said that he was unwell.