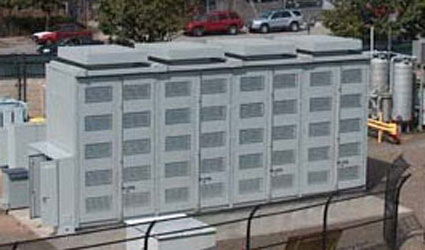 JAPANESE electronics giant Toshiba is joining forces with Spanish power provider Fenosa  to test its latest battery power storage systems to even out electricity supply.
With 21.1 per cent of Spain's electricity is now supplied by wind turbines, and with solar power and other sources making the renewable electricity production capacity in Spain 49.1 per cent of the total, the big problem is what to do when the wind is not blowing or the sun not shining.
Traditionally that meant coal or oil burning power stations had to be kept on standby to produce electricity when the wind dropped or at peak times.
Energy storage systems have been developed, but at varying degrees of efficiency and expense.
Toshiba hopes that its latest generation transportable lithium-ion Battery Energy Storage System (BESS) will help provide an efficient, reliable and stable power distribution network.
The programme was launched in December 2013 and will run for five years. It is supported by Japan's New Energy and Industrial Technology Development organisation (NEDO), under its programme for "Development of Large Scale Energy Storage System with High Safety and Cost Competitiveness."
The demonstration will initially be located at the Alcala de Henares distribution substation in the suburbs of Madrid, but it is planned to carry out demonstrations at several sites to fully assess various case studies.
The scope of the testing programme will include the evaluation of the BESS's effectiveness in managing the electric supply at specific sites with seasonal or temporary high electricity demand. In addition, management of power and voltage fluctuations caused by renewable energy sources will be evaluated.
Fenosa manages electrical power supply with seasonal and occasional electrical demand fluctuation. In addition, the rapid increase of renewable energy and distributed generation will demand more flexibility in the electric system. For those applications, storage technologies are the promising solution that can be integrated in the different electrical systems.
Toshiba's advanced SCiBTM lithium-ion secondary batteries. have, the manufacturer claims, excellent features such as safe, long life for more than 10,000 charge-and-discharge cycles, high effective capacity and low-temperature operation. Those features are highly suited for the BESS applied to distribution networks.
Through the demonstration program, Fenosa and Toshiba aim to demonstrate the BESS solutions that will contribute to the establishment of highly reliable metropolitan distribution networks that can ensure stable electric power supply for those with large amounts of renewable energy sources and also provide continuous power supply solutions in metropolitan areas in the event of an emergency situation.