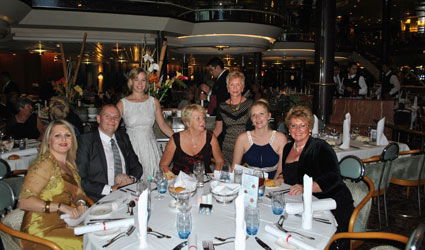 Winners of the Cambridge 800 Spanish Convention awards joined senior managers for a Mediterranean cruise to celebrate their successes as a reward for their achievements and hard work.
All Consultants and customers of Cambridge 800 in Spain are winners in the eyes of Cambridge, however each year they present awards to those people who have achieved outstanding successes and go the extra mile for their customers. 
The lucky winners were: Slimmer of the Year Rob Blyde who was joined by partner Becky.  Both Rob and Becky are now Consultants, helping people to lose weight, just as his Consultant did for him.
Consultants of the Year: Marion Hughes and daughter Zoe Hughes, for their outstanding service to their customers and commitment to Cambridge.  Marion was also the Consultant who helped Rob to lose weight and keep it off and then helped him to become a Consultant.
Sponsors of the Year: Lynda Gibson and daughter Lauren Shakespeare who work in Orihuela Costa.  Lynda and Lauren have helped many people in and around the Torrevieja South, Orihuela Costa area to lose weight and have also introduced many Consultants and helped them develop rewarding careers with Cambridge.
The cruise took the lucky winners to charming Sicilly, the pretty island of Corsica, then onto Rome and the Vatican City, Mallorca, Valencia and finally back to Malaga. All in all, a cruise to never forget their great achievements with Cambridge 800.
You don't have to have lost the most weight to be entered into the Slimmer of the Year 2014 competition.   People from all walks of life and medical challenges use Cambridge 800 to lose weight and keep it off for good … just like Rob and many others have over the past two years in Spain.
Cambridge is only available from Accredited Cambridge 800 Consultants, who will help you to lose weight, reintroduce foods and make healthy, delicious choices to prevent you from putting your weight back on.
Cambridge can be used as a Total Diet Replacement and / or can be used with conventional food.  There are five different programmes to choose from to ensure that you are on the right programme for you as an individual.
Your Cambridge 800 Consultant will be with you throughout your weight loss journey and beyond into long term weight maintenance … or as Cambridge prefer to call it … My Life.
If you have tried every diet, only to put more weight on afterwards … now is the time to make the change for good.  Change to Cambridge 800.
YOU together with your Cambridge 800 Consultant can make it work today … and the next day.
To find your local Cambridge 800 Consultant contact:
952 586 324 or 952 475 954
Email: [email protected]
www.cambridge800.es
Face Book: Cambridge 800 España-Spain