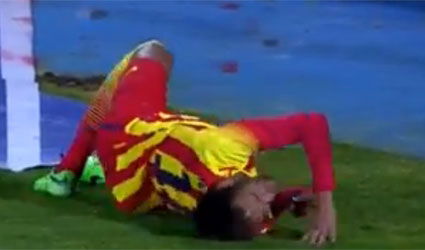 Neymar Junior, Barcelona's forward suffered an ankle injury during the 23rd minute of the King's Cup match against Getafe on Thursday.  He fell awkwardly while attempting to cross from the byline.
There are concerns that Neymar, who is now walking with crutches, will be fit for the match against Manchester City in a month.  FC Barcelona issued a statement to say he has torn a tendon in his right ankle and further tests are being carried out. Rumours suggest he may be unable to play for the next three or four weeks.
Tata Martino, the Barcelona coach said at a news conference "the situation did not look good when you saw it happen … but thank God it is not as serious as it appeared and he'll be back playing soon."
The Barcelona-Getafe match, which Barca won 2-0, was the second leg of the last 16 in the 'Copa del Rey'. Barcelona go through to the next round on a 6-0 aggregate score against Getafe.
Returning star Messi scored the first goal, his 17th of the season, from a cross from Tello. His second goal proved Messi's skill when he bypassed four defenders and the goalkeeper to score.
Barcelona's next match in the Kings Cup quarter finals will be against Levante.