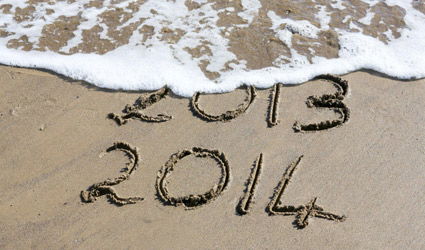 EACH month I write about how you can make the most of the month ahead, using astrology, numerology and the tarot as a unique tool to help you confidently create the life you desire and deserve. Read on to learn more about how you can create what you want this month.
Jump into January!  With the new moon on 1st January, this month promises to bring much needed change.  Look inside to discover your true heart's yearning and act on your inner wisdom.  This year is about becoming who you really are.  Throughout January you will be given the opportunity to re-evaluate every aspect of your life, and decide whether to maintain the status quo or boldly break free.  On 14th January, the full moon ruled by the watery sign of cancer, brings the focus to home.  Where do you feel most comfortable?  How do you nurture yourself?  These are questions to ask yourself around the middle of the month.  The month ends with another new moon, this time ruled by the airy sign of Aquarius.  Let your mind fly free and imagine your ideal life.  Then take action to make this your reality.
You are number 1:  January is the first month of the year and the number 1 is enabling you to empower yourself to follow your dreams.  The energy of this number is helping you to put your needs first, support yourself and trust that you will be provided for when you follow your own truth.  It is the number of new starts, adventure and optimism.  Focus this month only what you want, and let the rest fall away.  You may feel like you are walking your path alone at times, but know that the universe fully supports you and the changes you are making.  Follow your intuition, and take one step each day towards fulfilling your vision. 
Draw an ace:  The number 1 relates to the ace cards in the Tarot deck.  Each ace signifies a new beginning in all areas of your life.  The Magician in the major arcana tarot deck reminds you that you have all the tools for success.  With the lessons learned in 2013 it is now time to move forward with your plans and know that you are capable of achieving whatever you want.  You have the experience and knowledge now to create your destiny.  Trust yourself and your abilities.  Believe in your goals and draw on your inner strength to become who you truly are.  
What do you want to create in 2014?
Discover how the numbers in your date of birth, and placement of the planets at your time of birth, influence your relationships, career, health and home life.  With over 13 years experience of working as a Counsellor and Numerologist I can help you to become clear about what you want and how to attain your desires.  I hold one hour sessions in Palma, Mallorca.  Sessions can also be held via Skype and telephone.  30 minute sessions cost 30e and a 1 hour session costs 50e.  Please contact me on 674 405 464 or at [email protected].  Visit my website for more information www.sallytrotman.com
Here's a testimonial from one of my clients ' I want to say a really big thank you for everything you have done for me whilst I have been in Palma. I can't tell you how much you have helped me and what it means to me. You really have changed my life and the way I view myself. I feel like I have a new perspective on things and the tools I need to go forward. Thank you Sally!' written by Emily Harris from New Zealand