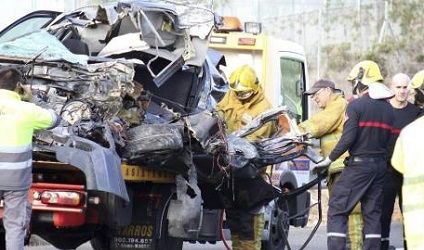 A MOTHER and daughter were killed early this afternoon (Wednesday) in a traffic accident near Torrevieja.
At km 55 on the notorious N-332 black spot, opposite the desalination plant, a tour bus had a head on collision with a car, causing the immediate death of the 40 year old driver; her two year old daughter was taken to the Torrevieja hospital, but lost her life within a couple of hours.
There were two women on the bus with the driver, who all suffered minor injuries.
An investigation has been launched into the incident. Guardia Civil officers closed the roads and redirected all traffic after the accident.