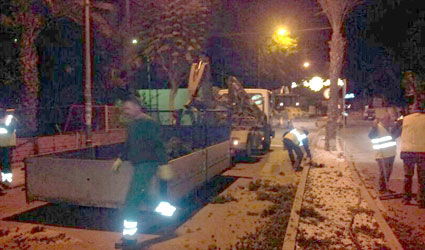 THE town hall of Huercal-Overa reacted quickly to the damage caused by the recent strong winds.
The wind uprooted trees and caused many fallen branches, traffic signals were dislodged, and fencing was blown over in several places including the municipal sports fields, public nursery and the industrial estate.
Repair to the damage began on the night of the storm, with municipal workers working alongside  members of Civil Protection and the Police. The first tasks involved the removal of fallen trees blocking roads, the remains of the fences and the cordoning off of areas that involved any danger to the public, with the removal of  materials at risk of falling.
The Mayor, Domingo Fernandez , said: "The  Council have made available all the necessary resources to fix the damage from the first moment" and recognised the important role played by members of the Security Forces , Civil Protection and municipal workers "who were working in the  strong winds to ensure the safety of our neighbours."