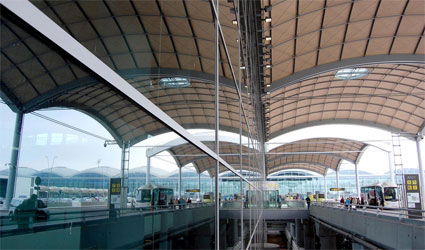 THE parents of a five-month-old girl have been blamed for her death on a baggage carousel at Alicante airport last September.
The Spanish government has said in a statement that the accident was 'totally random' and considers the blame should be placed on the people in charge of her.
Little Vashti Terry was crushed to death on a luggage conveyor at Alicante airport after her mother, 32-year-old Nathania Terry, rested the baby carrier on the conveyor belt and she became trapped in the machine.
The government's statement comes after a member of the opposition asked about possible measures to be adopted in order to prevent similar accidents.
In it, they say the carousel complies with legal standards, and claim the accident happened due to neglect of those in charge of the baby.
The tragedy took place on September 19, 2013, when Nathania Terry flew to Alicante from London with her husband, Patrick, and two children (see below for original story).
The mother apparently put her baby down on the conveyor belt when she went to reach for something.
The weight of the baby carrier activated the special carousel for outsized luggage, carrying the infant off to the entrance of the bag drop.
Despite attempts to resuscitate the baby, she was pronounced dead by the airport's on-call doctor at the scene.
Click here for original Euro Weekly News story September 19 2013