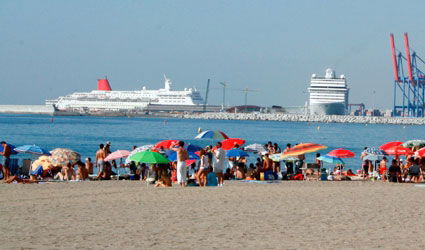 MORE than 35 per cent fewer cruise ship passengers visited Malaga in 2013, compared to the previous year.  After several years of rising figures, 2013 was not a good year for the port, but in 2014, the port authorities expect better results. 
It is estimated that around 500,000 will visit the port, which although a far cry from the 659,000 of 2011, is a step in the right direction.
The results in 2013 were partly due to the fact that Royal Caribbean's 'Adventure of the Seas' which had been based in Malaga and carried more than 100,000 passengers per year, moved to Baltimore in the USA. 
However, this year, NCL (Norwegian Cruise Line), which will have ships departing from Malaga 14 times throughout the year, will be joined by Thomson, with the 1,850-passenger 'Majestic'.
Pullmantur will remain in the city with two ships, Empress and Sovereign. Between them, they will have 26 ships departing the city. The Disney Magic will also be stopping twice in Malaga at the end of the summer, and so will the Oasis of the Seas, amongst others which will visit the city.