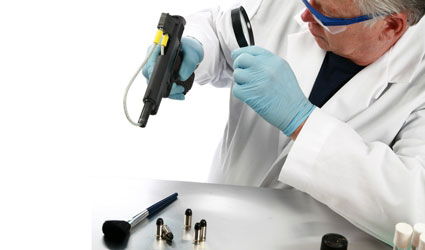 Elementary, dear Watson
SPAIN's National Police used DNA evidence to solve more than 200 cases of sexual violence last year. Add to that 92 murders and 116 robberies with violence – not a bad haul for the 21st century version of Sherlock's magnifying glass.Yet some people still maintain that DNA samples taken for elimination purposes during police investigations should later be destroyed.  Regarding this as an intrusion on privacy and freedom is as myopic as it's selfish.
The wrongly accused have thankfully been released from jail, sometimes after a shamingly long interval that says little for justice or forensic systems in the UK as well as Spain.
DNA testing does a great job at nailing down criminals, but an equally great one at clearing the innocent.  The more DNA samples on record, the better.
Juan Carlos and the A-word
KING JUAN CARLOS at the annual Pascua Militar walked with crutches as was to be expected after his multiple hip operations. He also looked ill and old, sounded hesitant and clearly found making his traditional speech to armed forces' high-rankers an ordeal.
The King is relatively young, having celebrated his 76th on January 5 but the elephant in his Zarzuela study is, precisely, an elephant. Everything went downhill after he broke his hip on a hunting trip to Botswana in 2012 where he had intended to kill elephants in the company of his mistress.
Since then it has been repeatedly stressed that Juan Carlos will not abdicate in favour of his son, Prince Felipe, but this look increasingly like a fractious reaction, not a pondered decision.
Mentioning the A-word is no longer prompted by politics or latent republicanism but by excusable ill-health.
The scales of justice
Not the best of times for Spain's royal family. 
The King's younger daughter Cristina and wife of Iñaki Urdangarin has been formally linked to her husband's business machinations by the Mallorca high court judge investigating the Noos scandal. So was Ana Maria Tejeiro, wife of Urdangarin's business partner Diego Torres.  Both women claim to be unaware of any fiscal wrongdoing, but while Tejeiro was named in the process, Cristina was not. It's pointless saying that everyone is equal before the law if a businessman's wife can be subpoenaed but not a King's daughter.
Justice must not only be done, but seen to be done without favouring an accident of birth.
Working hypothesis
THE crisis, spending cuts, wage freezes and mass redundancies have not bred xenophobia in Spain.
The same cannot be said of other EU countries including Britain, but the reason is very simple. Anyone who comes to Spain legally or otherwise knows that he or she must work, illegally or otherwise. Spain's benefits system is too exiguous for the alleged large-scale abuse attributed to immigrants elsewhere.  Result?  Limited xenophobia.