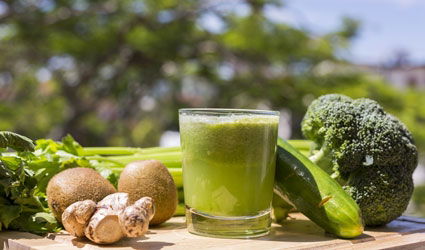 JUICING is a great way of getting essential vitamins and nutrients in to your body and with so many different combinations and options to try there is a taste to suit everyone. For maximum health benefits, make sure you include the some of the following:
Kale: a low-calorie vegetable that is rich in antioxidants and vitamins A, C and K. It is a good source of potassium and aids in muscle and heart health.
Ginger: adding ginger to juice recipes can reduce nausea and stomach distress and can improve the body's ability to absorb nutrients.
Lemons: rich in vitamin C and antioxidants, lemons also contain beta carotene which supports eye health and helps protect bones from osteoporosis.
Blueberries: often described as a 'super food' they are rich in antioxidants and vitamin C and juicing with blueberries can help the body overcome urinary tract infections.
Cinnamon: helps the body fight off colds and mild bacterial infections. Adding cinnamon may also help control blood sugar levels and reduce joint pain.