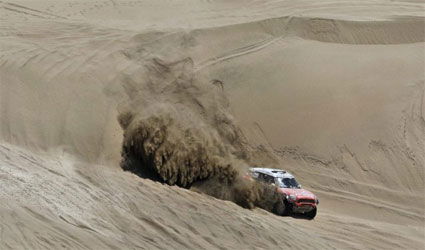 After a day of rest on Saturday, riders and drivers have spent three more grueling days racing through Argentina, Bolivia and Chile.
Bikes Stages 7, 8 and 9:
In stage seven, bikes and quads faced their second marathon stage of this Dakar, racing rom Argentina through to Bolivia.  Joan Barreda clocked the fastest time of the stage, followed by overall leader Marc Coma and five time winner Cyril Despres.
Stage eight took riders at around the giant salt flats in Bolivia, up through high altitudes over the Andes an on to Calama in Chile. Cyril Despres won his first stage of this year's rally. Joan Barreda came in two minutes behind, with Marc Coma coming in third just a few seconds after him. 
Spain's Marc Coma and Joan Barreda came in first and second on stage nine of the Dakar, with third place rider Cyril Despres riding in just a few minutes behind.  The top three overall bike riders by the end of stage nine are all from Spain.
Bikes: Overall after stage nine
1 Marc Coma, KTM, 36:55:07
2 Joan Barreda, Honda, + 00:55:36
3 Jordi Villadoma, KTM, + 01:54:02
Cars Stages 7, 8 and 9:
Spain are also putting on a good show in cars, with Carlos Sainz winning the 525km stage seven, taking eight minutes off Nani Roma's overall lead over him.
Nasser Al-Attiyah won the day on stage eight over the 302km timed special stage. His teammate Stephane Peterhansel followed in a minute after him, with Carlos Sainz another minute behind.  Overall winner Nani Roma was nine minutes behind the stage leader.
Stephane Peterhansel, currently in second place overall managed to close the gap on Roma during stage nine of the race, enjoying his 64th stage win; he has won the Rally eleven times in total.
Cars: Overall after stage nine
1 Roma/Perin, Mini, 34:15:37
2 Peterhansel/Cottret, Mini, + 00:12:10
3 Terranova/Fuiza, Mini, + 00:54:33
Trucks Stages 7, 8 and 9:
Eduard Nikolaev, the reigning truck class champion won stage seven, his first stage win this year. Gerard de Rooy, overall leader in the truck section followed close on his heels. In stage eight, the trucks were the last to return, after a long day combining a 300km timed special stage with a 522km liaison route over the Andes.  Andrey Karginov came in first, still leaving second place De Rooy in the overall lead by 32 minutes and 35 seconds.  Nikolaev was third in stage eight.
Andrey Karginov drove a great stage nine, recording another fastest time.  The gap between Karginov and Gerard de Rooy dropped to a mere 13 minutes.
Trucks: Overall after stage nine
1 De Rooy/Colsoul/Rodewald, Iveco, 36:37:45
2 Karginov/Mokeev/Devyatkin, KAMAZ, + 00:13:28
3 Nikolaev/Yakovlev/Rybakov, KAMAZ, + 01:21:41