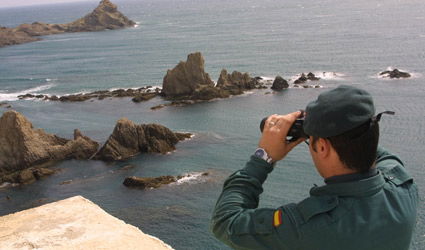 APPROXIMATELY 4,400 illegal immigrants were intercepted by Guardia Civil when attempting to enter Spain via the sea in 2013.
Most of them attempted to enter via Granada, Malaga, Algeciras, Cadiz, Huelva, Almeria, Tenerife, Las Palmas, Alicante, Murcia and the Balearic Islands, as well as the Spanish enclaves of Ceuta and Melilla in North Africa, where attempts to enter Spain have become more frequent.
This is a similar figure to 2012, of which almost 500 were Moroccans, almost 630 Algerians, more than 3,220 Sub-Saharans, and the rest from other countries, according to the National Centre for the Coordination of Maritime Surveillance on Coasts and Frontiers.
Immigrants use toy boats which endanger their lives, and to prevent this, the Guardia Civil have launched a programme to more effectively detect boats transporting immigrants, as well as drugs.