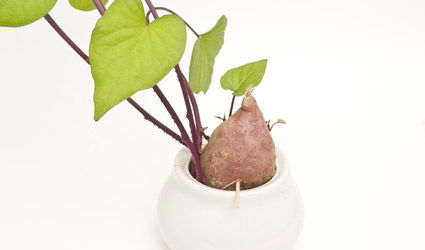 SWEET potatoes must be one of the easiest plants to grow. All you need is a jar of water per organic sweet potato and off you go.  
It is important that the sweet potato be organic, as industrially grown fruit and vegetables are sprayed with chemicals which may prevent them from forming buds.
Simply push a narrow stick through the sweet potato from side to side and place it in a jar of water. The stick will rest on the jar and hold the potato in place.
Leave the sweet potatoes in a warm area near a window and you will soon see shoots begin to grow. You will be able to crop these slips between four to eight weeks after starting the process.
Plant them outdoors in an aerated soil, or sandy soil, about 30 to 40cm apart as soon as there is no danger of frost. They like warmer weather, so the Mediterranean climate is ideal. They take around four months to grow. Raised flower beds will help the roots keep warm.