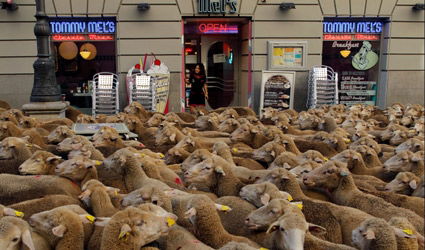 SOME Madrid streets are trails originally used for herding sheep to winter and summer pastures.
Periodically they regain their original use as they did during the Transhumance Fiesta last year when flocks were driven along the Calle de Alcala. The sheep, photographed in front of a Tommy Mel's restaurant, were chosen by The Wall Street Journal's as one of the most memorable photos in 2013.
The juxtaposition of Spain's past and present economy in the Andres Kudacki/Associated Press photograph would not have been lost on the New York newspaper.
Time was when the Honoured Council of the Mesta was the only commercial concern with which a well-born Spanish gentleman would allegedly sully his hands.
This powerful association of sheep farmers in central Spain created in 1273 was one of the most important guilds in mediaeval Europe.
The Calle de Alcala Tommy Mel's is one of a chain of Fifties-style fast food outlets belonging to Wonderfood Brands Corporation.   There are currently 29 of the restaurants – 22 franchises and seven in ownership –although this total is expected to increase to 120 over the next five years.