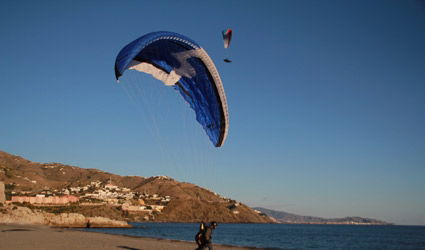 A TOTAL of 120 paragliders from eight different countries flew over Almuñecar during the 2013 Paragliding Festival.
Good weather conditions allowed participants to fly from the morning through the afternoon.
The taking-off points were located in the Loma del Gato and the Cerro del Itrabo areas, finishing on Velilla beach.
Each flight took between 15 to 90 minutes, during which the paragliders could enjoy a view of the Costa Tropical from the sky.
The event was organised by the Club Parapente Tropical, and was sponsored by the Sports department together with the Almuñecar Tourism Board.
Participants this year came from Germany, the United Kingdom, Switzerland, Austria, Russia, Holland, Belgium and Spain.
Prizes were given to the winners of each category, these being male and female single-seater or two-seater paragliding.
After the awards ceremony held on El Tesorillo beach, the Councillor for Sports Luis Aragon pointed out the importance this sport has for the town as it is of the "utmost tourist interest."