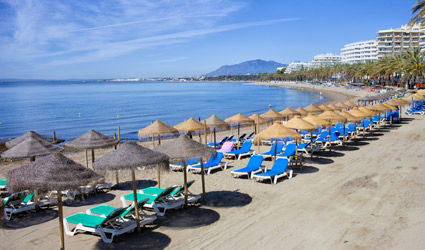 SPAIN has swept the board in best holiday destination competition as the Costa del Sol, Tenerife, and Mallorca were listed among the top holiday rental destinations for 2014.
The projections by Alpha Holiday Lettings, one of the UK's most popular holiday accommodation rental portals, are based upon client inquiries and web bookings throughout 2013 which were used to predict the destinations for holiday travel and activity in the coming year.
The company lists seven European destinations in the top 10, with Spain representing almost half of the European picks. Not surprisingly, the Costa del Sol ranked highly with a third place pick, behind Dubai and Cyprus. Tenerife came in sixth, while Mallorca rounded out the favourites with a spot in 10th place.
Paris, with its perennial popularity, is a notable fourth place pick given its wealth of historic landmarks and fabulous cultural attractions. The UK was also represented by Cornwall, which made the list at seventh place. Dubai, Florida and Sydney were the other non-European picks.
Dubai's first place ranking is owed to its year-round sunshine, luxurious lifestyle and, perhaps just as importantly, its apparent immunity to the global economic downturn. The rapidly-expanding network of Dubai's Emirates airline is making travel to the city cheaper and more accessible all the time.
Even so, the Alpha Holiday Lettings' Top 10 list should encourage Spanish property owners and agents to look forward to a prosperous and lucrative year ahead.