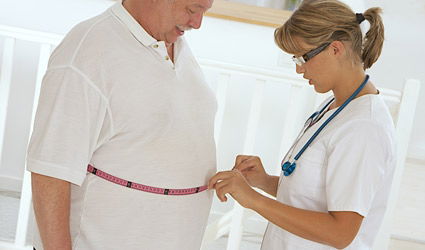 IN a new report by the National Obesity Forum, figures suggest that the number of obese and overweight people in the UK could be dramatically more worrying than previously anticipated.
The latest report predicts that more than half of the British population could be obese by 2050; estimates suggest that 60 per cent of men, 50 per cent of women and 25 per cent of children would be obese.  The knock on effect of the problem could cost the NHS billions a year.
The report titled 'The State of the Nation's Waistline' recommends that GPs should received special training to deal with the issue. It suggests that GPs are reluctant to initiate conversations regarding a patient's weight, as it is a sensitive issue and the patient may feel insulted.  
The report recommended that the government initiated some hard hitting campaigns, equivalent to 'stop smoking' campaigns to raise awareness of the issue amongst the general public.
The government's current Change4Life campaign is a step in the right direction, according to Professor Haslam, the Chairman of Forum, but it is not having the required effect.   He believes serious steps need to be taken to educate the public, as well as ensuring responsibility amongst food and drink manufacturers and retailers and getting weight management programmes in place.
Criticisms of fast food, 'TV dinners' and poor eating habits have been well documented, however the trend is still towards obesity rather than fitness.  Popular TV chef Jamie Oliver has maintained his one man healthy eating campaign on television and in the media. His series about healthy eating in schools caused a furor at the time; however it was not enough to ensure that a healthy eating programme and lessons in nutritrion were in place throughout the UK education system.
Dr Aseem Malhorta, a cardiologist at Croydon Hospital stated that obesity was "the greatest threat to health worldwide."