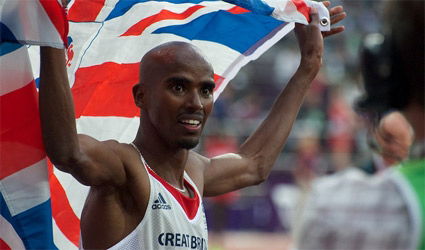 The European union of sportswriters voted Mo Farah as European Sportsman of the year 2013.
He is the first British sportsman to win the prize since 1995. In 2012 Jessica Ennis was voted European Sportswoman of the year.
Mo Farah's unforgettable double gold winning performance at the British Olympics followed by more gold at the Moscow World Athletics Championship in the 5,000m and 10,000m races, have ensured the athlete a place in sports history.
Farah received 58 votes to become the European Sportsman of the year, with Rafa Nadal close behind with 49 votes and in third place was Sebastian Vettel, who had 44 votes.
This year he is due to compete at the European Athletic Championship in Zurich in August and has said he will also run the London Marathon later in the year.
Sportswoman of the year 2013 is Yelena Isinbayeva, the Russian pole vaulter; she also won in 2005 and 2008. She obtained 56 votes, ahead of Slovenian skier Tina Maze with 49 votes followed by Russian swimmer Julia Efimova with 41 votes.
Isinbayeva is due to compete in the 2016 Olympics in Rio de Janeiro, but has commented that she would like to have a child first, and then return to sports.