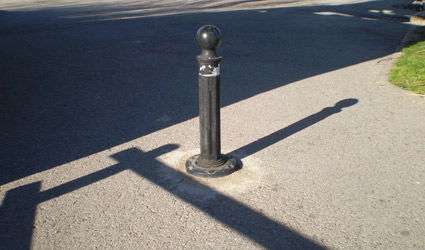 FERRAN RAMON I BOIX lives in Alicante city's San Blas district.
Recently the council installed bollards along his street to keep cars off the pavements.
Unfortunately for Ramon i Boix, two of them are now blocking the entrance to his garage.  They were installed only days before his official "keep clear" plaques arrived from the same city hall that insisted on installing the bollards.  He had already paid the first quarterly fee for the plaques and has now learnt that he must pay for the bollards' removal.
"It's not fair, because that's money that I won't get back," the 60-year-old complained.  "We've been like this for three months now, and we're desperate to use our garage again."
Rather than pay a company to do the job, Ramon i Boix decided to remove the bollards himself, using a hammer drill.  It was hard work, he admitted.
Adding insult to injury, he the council has informed him that once removed he must return the bollards to the municipal deposit.  He must also repair the pavement using the same flagstones, he was told.