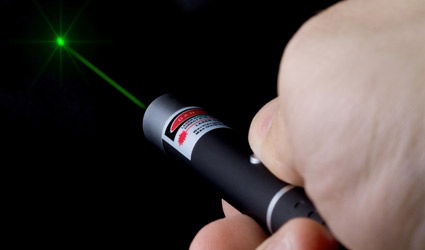 SOME 10,000 laser pointers were seized in the Balearic Islands during 2013, 1,620 of them being high powered ones.
These lasers have become more available in recent times, and are often maliciously used to distract or temporarily blind people.
The confiscations were carried out by the Directorate General of Public Health and Consumption, the Customs and Border Patrol from the Guardia Civil, and La Palma Local Police.
These bodies started to cooperate after they found out laser pointers were being sold without complying with the safety and labelling regulations.
Pilots reporting people were trying to blind them using the lasers also triggered inspections.
During these, officers check the origin and the labelling of laser pointers being sold in shops.
The current laser pointer regulation classifies them according to the radiation they emit, among other factors.
Thus, laser pointers are only allowed in toys if they are class 1 and there is a sign warning parents.
Class 2 lasers are for professional use only. Any laser more powerful than class 2 can't be sold and their use is limited.