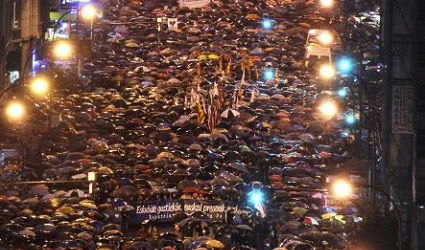 More than 100,000 demonstrators marched through Bilbao on Saturday after a rally in support of ETA prisoners was banned.
Supporters of Basque militants filled the streets of Bilbao, calling for human rights, understanding and peace. A demonstration had been planned asking for jailed ETA members to be moved closer to their families, but it was banned by Madrid who said that it was organised by an illegal group.
Pro independence groups were joined by the more conservative Basque National Party in calling for the march. Josu Erkoreka, spoke on behalf of the regional government saying the decision to ban the demonstration was "incomprehensible to the Basque people."
Victims of ETA were outraged by the march, saying it was insensitive to their suffering. The Victims of Terrorism association applied to have it prevented. They issued a statement saying it gave "grave offence to each and every victim of terrorism. They only aim of the initiative is to pay homage to prisoners of the terrorist group ETA".
ETA has been blamed for more than 800 killings during its campaign for Basque independence. The recent early release from prison of convicted ETA terrorists has increased tensions between pro independence extremists and victims of terrorism.