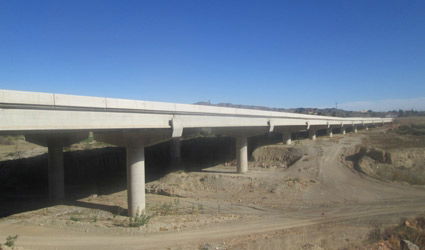 THE announcement by the European Commission of the works of the Almanzora motorway as a "Grand Project' and its funding in order to complete this infrastructure has been greeted with optimism by different social and political groups in the north of the province.
News that will serve at least to close 2013 with a little more optimism in a region being particularly hard hit by the economic crisis and unemployment. In the words of the Delegate for Development in Almeria, Encarna Caparros: "It is especially important news because of the demand in the area and because it is also the desire and will of the Junta to finish a work that is priority and a concern to us."
For the President of the Mancomunidad of Almanzora, Antonio Salas, "It is the best way to end the year and welcome in 2014. This funding and the culmination of this work is very important for the interests of the whole region. This is good news as Europe is echoing what we have been demanding for so long to the authorities, they have recognised that this project is of vital importance."
Salas showed satisfaction that "if anything has come from  the campaigns we have done, we have only to congratulate all the mayors of Almanzora who have fought  loudly for this infrastructure.
"It is central to the social and economic development of the Almanzora  Valley, because it will help create jobs and attract businesses to our area." According to Caparros: "The first phase, at least the Albox bypass, will start operating in 2014. Given the degree of implementation of this section of up to 90 per cent, it is estimated that in about seven or eight months the works on this stretch can be completed, but I do not like to give  a start date because there are still negotiations with companies to agree on and complete  all the procedures. Hopefully construction can start in early 2014."