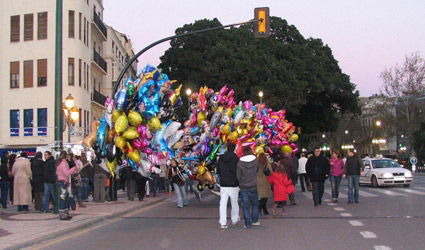 THE family of a child who died after being hit by a float at the Three Kings parade in January 2013 in Malaga is demanding compensation from the City Hall.
Witnesses say the six-year-old and two other children, crawled under a truck because there were some sweets underneath it.
Civil Protection volunteers and Local Police managed to pull two children to safety, but were too late to save the boy who was crushed as the float moved through Plaza del General Torrijos.
The boy's father, a forensic doctor, gave him mouth to mouth resuscitation while his mother and sister looked on. The boy was rushed to hospital, but nothing could be done.
Now, his father is asking for €312,000 in compensation, not only for the child's death, but also his mother's, three months later. She had been suffering from depression and died reportedly from heart failure.
A criminal case against the city hall has been filed on two occasions as no crime was observed, but the father is holding the city hall responsible for both deaths. In a civil case he claims that his son did not scramble under the truck to get sweets, but that he was hit by it, causing him to fall.
He also says that the driver of the truck did not check for danger before moving, that the volunteers at the sides were not in their correct positions and that there were not enough people to prevent children from approaching the vehicle.
In his complaint, he points out that there should have been barriers to prevent children from approaching the parade. The city hall has said that the complaint is being studied "objectively" to determine responsibility.