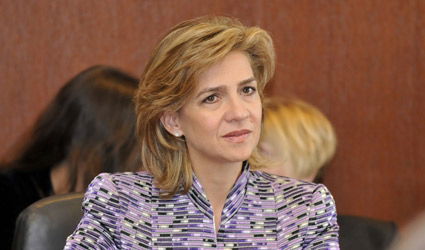 THE Infanta Cristina has been charged with money laundering and tax fraud and is due to appear in court on March 8.
Judge Castro, handling the Noos corruption case, has decided to charge the King of Spain's youngest daughter for the second time since the case began, once again without the support of the anticorruption prosecutor.
He maintains that the Duchess of Palma benefitted personally from funds from the Aizoon company, which she owned jointly with her husband, Iñaki Urdangarin, and which is believed to have been created with the sole purpose of laundering funds obtained illegally through the Noos Institute.
Her defence lawyers have already said that the decision will be appealed before Palma Provincial Court and the official statements from the Royal household have always maintained that Cristina knew nothing of the illegal activities allegedly carried out by her husband, despite her signature appearing on many documents.
However, in the 227-page order, judge Castro says that the Infanta was knowingly used by her husband as a "shield against the tax office" and that the personal expenses of both parties show that she benefitted from the funds obtained.