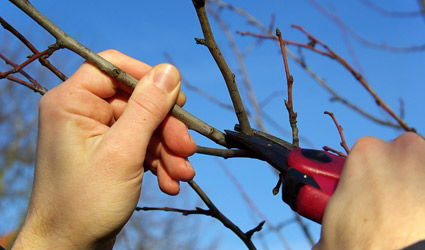 Well the festive season is over for now so it's a good idea to now start the essential winter cutback as soon as possible to ensure that plants cut back to shape can adjust to their new size; start to prepare to sprout new shoots and leaves; and form flower and fruit buds in time for the warm days of early or late Spring, depending on the type and location of your garden.
Chapter 6.9 of our book 'Your garden in Spain – From planning to planting and maintenance' explains what to do with a wide variety of plants so in this column I will stick to explaining the main principles.
Main reasons for a winter cutback
1. Most shrubs and trees are dormant or at their lowest level of growth, so there will be a low level of sap bleeding and drying out.
2. To shape trees and shrubs to make them more architectural and reduce them to a size in keeping with size and style of your garden.
3. To clear away any weeds, dead leaves and unwanted self-seeded plants.
4. Plants that were allowed to bud and flower during the festive season will now slow down, mainly lose their leaves and, if left uncontrolled until the spring, they will become leggy.
5. The later you prune now the later will plants flower in the spring.
6. The weather is often dry and sunny and makes this winter exercise enjoyable.
There are also some pest control actions to integrate into the cutback and clean up. These include:
1. Burn any really diseased prunings or dying plants.
2. Spray fruit trees with a mix of neem oil and propolis. We use five millilitres per litre of water at this time of year.
3. Seal large diametre cuts with a sealant.
4. Place grease bands round the trunks of fruit trees.
5. Sow two garlic segments under each rise bush after pruning and weeding.
STOP PRESS – Adventure along the Spanish Pyrenees – Dick Handscombe's new book
If it rains or you are looking for an interesting read by the fire side try out latest book available as are the others from Amazon Books. 'Adventure along the Pyrenees' is not a guide book. It is a full and interesting travelogue describing the 52 day 950 kilometre walk Clodagh and I did from the Bay of Biscay to the Med. The walk turned into a real adventure as several unexpected happenings such as new snow-falls, accidents and forest fires caused to modify our route, at times with no published map but the advice of shepherds, ex smugglers and a hermit.
It was the sight of ancient eco vegetable plots in the small mountain villages that prompted us to take on more land and write 'Growing Healthy Vegetables in Spain' after a few years.
The book is rather written more for those walking with a local walking club and non-walkers rather than experienced mountain climbers. When we did the walk we had never carried heavy back packs before or walked for more than a week and then staying in bed and breakfasts or hotels. We took no mobile phone or GPS so relied on the use of a compass to ensure that, most of the time, we headed east. A total of just two phone calls each were made to tell our families that we were still alive.
© Dick Handscombe www.gardenspain.com  December 2013