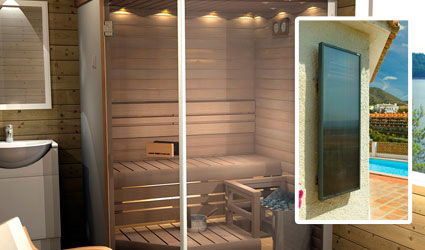 A HEATING panel that needs no electricity and will heat your home free, even when you are away, is just one of the high quality products on sale at Evo-Import.
That's right, no electricity needed, and this panel will also keep your villa fresh as it changes the air at the same time. And customers know it will be reliable as it is made with the highest quality German components.
Evo-Import can also fit saunas in almost any kind of apartment. They are fast to install and only need a small space. Again another quality product from EVO-Import which is a company that has been working in Spain since 2006. 
A fine part of what makes EVO-Import special is the care they take to offer the best quality materials with no match in durability. Evo-Import only collaborates with the best quality manufactures, all of them with the highest certificates in security and endurance. 
Customers can find brands like Altro Fuoco, Brunner, Unidrain, Ecofurn, Hukka, Sommerhuber or Iki-kiuas within their products, the finest Nordic manufacturers for your home. 
There is a common belief that it is better to work with regular or low cost materials when building a home rather than top-notch quality materials, because they are more expensive.
A regular home in Spain might need renovations or repairs within the first few years, but the folks at Evo-Import have been using the same installations they built in their home 30 years ago and still, not a single repair needed. That's quality!
Evo-Import has a great and varied catalogue with products of different price ranges but all of high quality. Brands like Hukka or Ecofurn give unbelievable quality/performance for the money. 
People thinking about using a healthy and durable ecological heating system in their home should look at Altro Fuoco bioethanol burners, which have the KIWA certificate, meaning they are the safest burners in the world.
Altro Fuoco burners are small, don't need any installation and can be used anywhere in the house, as they don't produce smoke or any smell. 
Evo-Import's show house, "Villa Sueño," created by Celog Houses, has been built from the ground up with these quality materials, showcasing a beautiful design with wall covered by 145mm ecological recycled non burning insulation, air system with heating and cooling, central vacuum cleaner, windows that reflect 70 percent of the heat back and a Brunner fire place that also heats the hot water. 
Evo-Import also sells water and electrical floor heating of the highest quality. The water system that they sell has been installed in houses in Finland from 1986 and still no need for a single repair.
With Evo-Import, you think about durability and environment friendly. Buy once, buy quality and you need to spend less money and time in the long term.
More information:
http://evo-import.com
ove@evoimport.com
670 508 958