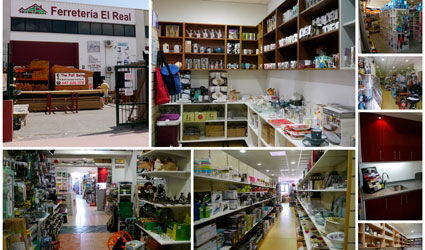 A  message from Zoe and Dave to all their custoimers…
"WELL folks, the time has come. In three months David and I will be adopting two children in Bulgaria. We do not know who they may be, we have not met them yet but they will enter a family who wishes to give them lots of support and love.
It's been on the cards for a while and many of our customers have followed our progress with great interest and we thank you for that.
Hence Ferreteria El Real has been up for sale as a going concern for over a year with the knowledge that the adoption would take place at some stage and although we are a profitable business with frequently returning customers, no one has taken us up on the offer.
As a matter of course we have had to make a difficult decision and say that we will close the business. I must say that this decision was not taken lightly, nor was it decided upon until this week, but needs must. 
It's a sad time for us and I have shed a few tears whilst writing this as we have so many wonderful customers who have supported us over the years, but it's time for a family and for my parents to be able to sit back and enjoy their retirement and their new grandchildren to the full. 
I would also like to take this opportunity to thank some fantastic friends who have supported us through thick and thin, Valerie Greenfield and her husband Alan as well as my best friend Barbara Woods and many others over the years.
We are closing the business at the end of January so until then there is a discount of 40% off all stock in Ferreteria  El Real and The Full Swing. Please come and support us in our last month of trading and if you wish, grab a bargain in the process."
Thank you from Zoe, Dave, Val, Jan and Les.
Full Swing and Ferreteria El Real, situated at C/ Las Ramiras F4, Antas. Telephone: 950 459 009.