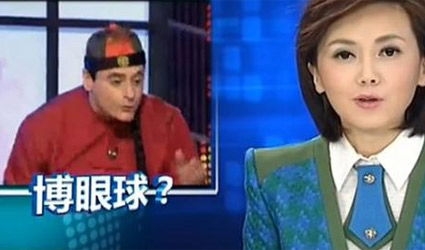 SPANISH TV networks have been asked to avoid broadcasting sketches which are offensive to Chinese people.
The spokesperson of the Chinese Ministry of Foreign Affairs, Hua Chunying, made this plea after knowing the Chinese Embassy in Spain sent a protest letter to a Spanish TV channel.
The charge d'affaires of the Chinese Embassy, Huang Yazhong, expressed his "strong dissatisfaction" over a sketch broadcast during a New Year special show on New Year's Eve.
In 'Mesa para dos' (Table for Two), insulting stereotypes and clichés were used.  In the sketch, a comedian, wearing an exaggerated costume, with a long pigtail hat, played a Chinese waiter in a restaurant,  "The 'waiter' jumped around like a fool, with the Spanish 'customer' shouting insults at the Chinese," said Huang.
The Spanish shouted "Este Chino es gilipolla" twice in the program, meaning "this chinese man is a tw*t."
The "waiter" served duck, but when asked he could not identify the meat, suggesting that Chinese restaurants serve dog and cat meat, Huang said.
It is not the first time Telecinco has raised controversy within the Chinese community.  In May 2013, a host from the same channel said some Chinese restaurants in Spain had been serving meat of suspicious origin