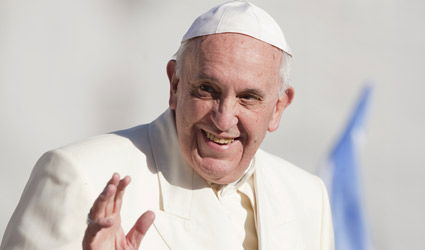 "WHO am I to judge?" said Pope Francis about gays. 
In contrast Spain's Constitutional Tribunal, its ultimate legal voice, is paid to judge and rejected the Partido Popular's earlier appeal against the 2010 law legalising gay marriage.
Riding roughshod over these two opinions based on two entirely different concepts, the archbishop of Castellon, Casimiro Lopez wrote in a pastoral letter that homosexual marriages cause "grave perturbations" in their offspring.  They also "foment a violent family climate," he said.
Cardinal Rouco later blamed "bothersome intellectuals" and the media for the breakup of the traditional family.
So while the Pope declines to pontificate on homosexuality Spain's hierarchy jumps in with both feet. 
Once again it's all about telling people what they should and should not do and once again the pronouncements are based not on evidence but bile, bias and bigotry.
Message received
KING JUAN CARLOS'S Christmas message was the least-viewed in 15 years.
It was seen by 6,580,000 of Spain's population of approximately 47 million. 
Juan Carlos is a prime example of the decline of monarchies everywhere.  During the Transition to democracy on Franco's death in 1975 he did what kings were always supposed to do.  He defended his realm and his people and had he not done so during those first precarious years, things would be considerably different in Spain today.
By ensuring decades ago that Spain enjoyed a democratic parliamentary system with a parliamentary monarchy Juan Carlos has gradually done himself out of a job. He knows this and, sad as it must be for someone who once carried out a real king's role, he also knows that we know it.
Drive-through
THE National Police – the force that polices towns of more than 25,000 inhabitants – has fewer vehicles.
Its fleet has been reduced over the last two years, eliminating 405 vehicles that were under-used or not worth the maintenance costs involved.
A commendable cost-cutting exercise but what about under-used vehicles allotted at local, regional and national level?
If asked their opinion, most members of the public whose taxes pay for official cars would probably prefer a cull of the vehicles used by politicians and their elusive, expensive "special advisers" than the police.  At least the latter supply a visible service.
Fallout from new law
THE storm over the Abortion Law – not unanimously subscribed to even within the PP – is doomed to rage long and loud. Although passed by the Cabinet, it must now go before parliament where it will possibly receive amendments.  But if it goes through in its present form, with foetal development no longer providing automatic grounds for termination, who is going to look after the children?
If spending cuts on the health service are already affecting the able-bodied, how will it look after an increased number of disabled babies?