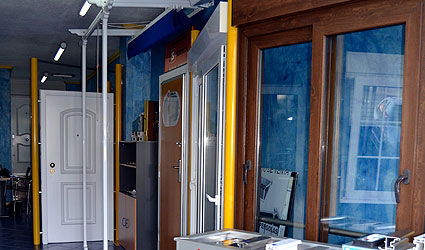 CIBELES VENTANAS has been offering quality and affordable windows and doors since 1998.
Owned and run by Frank Geerligs, he set up the business after moving to Spain from Germany, bringing with him, his years of experience in the trade. Due to its rapid expansion, new premises were opened in Torrevieja in Avenida Cortes Valencianas six years ago, where Cibeles Ventanas now operates from. 
Window profiles come from Germany, but everything else is manufactured in Spain so is fully guaranteed and allowing a quick turnaround. A full and varied range of windows and doors are available to choose from including aluminium and plastic offering good stability, a long life span, easy to clean and maintain and are available in a wide range of colours with different sizes, shapes and requirements able to be made to customer's specifications.
A full ecology range is also available, offering effective protection from the elements. Windows and doors can usually be made and fitted within two to three weeks but in emergencies, a 24 hour service is possible to ensure your property or business is safe and secure if you have had a break in.
Cibeles Ventanas offers so much more than just windows and doors and can provide a full building and renovation service using only the best, qualified tradesmen. They can do any form of extension of interior building work including tiling, plumbing and electrics. Roller-type shutters, mosquito blinds and security systems are also available.
For more professional information, help or advice, the showroom is open Monday to Friday from 10am-2pm and from 5-7pm and Saturday mornings 10am-2pm. Call 965 709 840 or visit www.ventanas-aleman.com