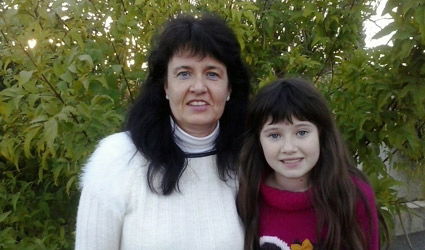 A PERFECT mini Christmas break in the UK almost turned into disaster for Mojacar Resident, Inge Brown and daughter Lara.
 When Inge and nine-year-old daughter Lara caught their taxi to Gatwick Airport in the early hours of Christmas Eve for their flight home to Mojacar, little did they know they were going to experience the scariest moments of their lives.
Heavy persistent rain over a prolonged period and strong winds had led to flood warnings in the area as the pair left their hotel at 4.30am for their early morning flight.
As Inge relates: "Ten minutes into the journey, we passed over a small bridge at Brockham.  Almost over the bridge, the car suddenly stopped and could not be started again. Without warning and in a matter of seconds the water rose to such a height that it lifted the taxi up and swept it off the road. 
"Luckily the vehicle got stuck on a fence and the driver tried frantically to call police and emergency services". 
Inge added: "When the water started to fill up the car, the driver  decided it was time to get out and attempted to smash the window (all electronics were down) but without success.
"This put the car into motion again and we were swept backwards further down the river until we got stuck in some trees.  It was high time to get out of the car."
With all his strength, the driver was able to push his door open and helped Inge and Lara climb onto the roof before getting up himself, while always on the phone to the emergency services.
The three of them sat there in the pitch black for more than two hours, freezing cold and wet, not knowing where they were and how serious it was.
After what seemed an eternity the Fire Brigade managed to rescue them by boat and got them back safely on land again.
Inge feels there are so many people to thank including "our very special guardian angel who made sure that we stayed safe on the roof of the taxi, the members of Dorking fire brigade who risked their own lives to save ours, the taxi driver who stayed 'cool' and always had our safety in and the locals who offered us blankets and a hot cup of tea and spare socks for Lara whose feet were freezing cold.
"We lost our suitcase and we were not at home for Christmas (as we missed our flight), but at least we are alive – and that's all that counts."
The story even made Sky News : The fireman involved in the rescue gave an interview and said "that the worst situation he had to deal with on that night was rescuing a child, her mum and a taxi driver from the roof of the taxi.  Another 10 minutes and they would have been swept to their deaths…"