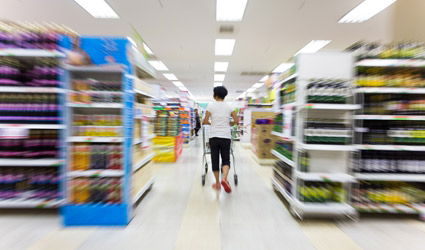 IF you did any shopping in the UK over the Christmas season, hopefully you were, err, on your toes as everything – product positioning, escalators, even mirrors – is carefully designed to get you to spend, spend, spend.
For instance, the stuff the shop really wants you to buy, such as the premium or its own-brand products that bring in the biggest returns, are always at eye level. And items like dog treats are often placed lower down the shelf than dog food. That's because it's mainly kids persuading parents to buy treats for their pets (probably wouldn't buy them otherwise). If placed higher up the shelf, kids just wouldn't see them.
Let's take IKEA as an example. A study concluded that the labyrinth of a typical IKEA store is cannily designed to entice its customers into purchasing as much flat-packed furniture as possible, the company's success due, in part, to baffling its customers into submission. It found that the weaving yellow path leaves customers disorientated with no clue where the exit lies. And while IKEA stores have to include shortcuts to satisfy fire regulations, these are always located outside the customer's normal field of vision: behind you. So, more S&M than M&S?
But is this "maze" criticism founded? Now, there are ginormous arrows on the floor all the way round every IKEA so, if people can't find the exit, does that mean they don't understand what an arrow is? And we've all known for ages IKEA – like any large supermarket – wants to take you round the whole store before you reach the exit!
But there's no need to feel like a hamster in a cage. Like any shop, most of it is signposted. Simply look up – the 'shortcuts' are well marked. You don't need to do a lap around the entire store. It's like traipsing up and down every aisle at the supermarket when all you want is bread. Don't tell me you lot do that too …?
Which reminds me. Recently in the bakery aisle of a well-known UK supermarket, there was an offer of "Any 2 for £1.20″. A bloke chose two different items. No discount. When queried, he was told, yes, he could have any two "as long as they were crumpets".
Nora Johnson's thrillers 'Retribution','Soul Stealer','The De Clerambault Code' (www.nora-johnson.com) available from Amazon in paperback/eBook (€0.89; £0.77) and iBookstore.Profits to Cudeca